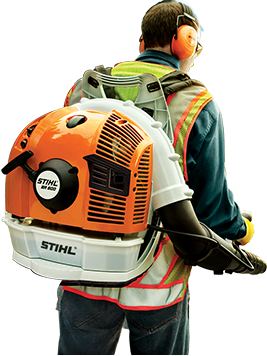 When our old blower quit working, I decided to take my wife to a STIHL Dealer in Bryan, Texas to find a new blower. I wanted a lightweight, easy to start model. After our salesman showed us a few options, we chose the SH 56 Shredder Vac/Blower with a gutter cleaning kit. It was everything we were looking for in a blower, with a little extra! Now I can finally sit back and relax while my wife takes care of blowing off the porch, driveway, garage and gutter cleaning! Thanks again, STIHL. You've made my life easier!
- Robert T., Texas
This year I was deployed with the Alert Academy of Big Sandy, TX to go to Joplin, MO to help with tornado relief. In the woods, mixed in with the rubble that the tornado left everywhere, we found a STIHL BG 55 Handheld Blower, Serial Number 281997454. It was missing the blower screen and carburetor cover and filter, the outlet nozzle had been ripped off and the housing was cracked all over. Obviously it got caught in the F5 tornado and had gotten beat up pretty badly while airborne. Nonetheless, when it was brought to our deployment trailer, we fueled it up and it started on the third pull! Talk about STIHL strength!
- Gus W., Texas
I have a STIHL backpack blower and a small chain saw. I bought them at J & J Small Engine and I can honestly say I have never seen a product that can do such a GREAT job and stay in GREAT running condition at all times. The blower has helped lessen my workload because of its fast blowing power. I'm so pleased with my equipment.
- Mark B., Nebraska
When my old Ryobi blower finally gave out, it was time to shop around for a new gas leaf and debris blower. I finally settled on a blower from STIHL and was immediately impressed with the physical design of the blower. I was also extremely pleased with how easy it was to start! I am 62 years old and not as strong as I used to be. Because it's so simple for me to use, I don't hesitate to get out my blower and clean up the driveway and porch areas. I consider the blower by STIHL to be a durable and solid investment.
- Richard B., Oklahoma